OPENCART vs SHOPIFY

Selecting the most suitable e-commerce platform for shaping, operating and maintaining an e-commerce website is critically important, as it can be the factor responsible success or failure of the website. Opencart is free, simple to setup and modify and if your willing to get your hands dirty can do just about anything you wish for. Shopify is an ecommerce platform which follows SAAS business model. This business model makes it easy for first time entrepreneurs to venture into ecommerce without spending much upfront. Online business can follow the detailed comparison between OpenCart and Shopify to choose the best solution for your site.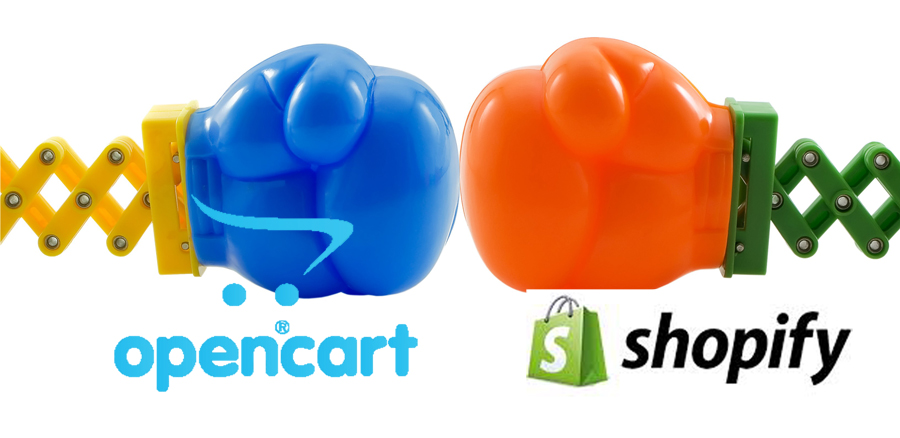 Shopify
Advantages of Shopify
- Shopify currently is the leading online solution provider for e-commerce sites globally.
- Shopify provides a ready-to-use hosted solution.
- It has a theme store where well designed and responsive themes can be found.
- It is a SaaS based pay-as-you-go e-commerce website solution that allows you to setup online store within hours.
- It has all of the basic features which any small business may need.
Disadvantage of Shopify
- There are too few free themes in the Shopify extension store.
- There is only one free text field per product, so adding separate tabs on a product page isn't possible. It to make it possible, great efforts have to be put in.
- By default, Shopify provides a basic search functionality that does very little to assist the user, again to overcome this issue, developer needs to put in extra attempt.

OpenCart
Advantages of OpenCart
- Many out of the box features are available for free.
- ability of working with multiple languages and currencies.
- Open Cart has a lot of plugins and extensions, which can provide with nearly any functionality you want.
- It is free and open-source, so it easy to implement any desired custom feature.

Disadvantages of OpenCart
- Not very easy to customize, and might be constricting for some businesses.
- Caching is not provided by Open Cart, and must be added using an extension for improving performance.

If you want to choose OpenCart for online business, OpenCart migration tool is suggested for you to migrate data from old cart and start with OpenCart shopping cart. Shopify to OpenCart migration extension is a popular automated tool for e-merchants.

On the other hand, you feel Shopify is the best choice with your case about technical knowledge and cost. Let's check Shopify migration tool with OpenCart to Shopify migration extension of LitExtension.

MAKE A RIGHT CHOICE NOW!